Hard Workin' Man
(February 23, 1993)

Hard Workin' Man

We'll Burn That Bridge

Mexican Minutes

Heartbroke Out of My Mind

She Used to Be Mine

Rock My World (Little Country Girl)

That Ain't No Way to Go

Texas Women (Don't Stay Lonely Long)

Our Time is Coming

I Can't Put Out This Fire

Boot Scootin' Boogie [Club Mix]
After such an incredible debut album, you would think that there was nowhere but down for this Country duo to head. Instead, they defy gravity and even top their first album with the release of "Hard Workin' Man". They worked hard on this release, and they come back with the same great harmonies, the great Country sound, and with a noticeable increase in their confidence.
Simply the best tune on this disc is "Mexican Minutes", a ballad of leaving the fast-paced life behind. Only these two guys could use the words "Chips and Salsa" and make it sound good. Kix Brooks gives the Messina tune fresh life. Put Ronnie Dunn's perfect Country voice into the forefront with "We'll Burn That Bridge" and the title track. His voice is full with just the right amount of twang and growl. The ballads are good on this release as well with "She Used to Be Mine" and "I Can't Put Out This Fire". Throw in a couple of upbeat tunes like "Rock My World (Little Country Girl)" and a remix of "Boot Scootin' Boogie" and you have a great Country hit.
No sophomore jinx here. These guys are on top of their game, and came through with another blockbuster album. They might be a little rockin' for Country, but they still respect their roots and create great music. This is definitely a step up from their first album and a true gem.


Borderline
(April 16, 1996)

My Maria

A Man This Lonely

Why Would I Say Goodbye

Mama Don't Get Dressed Up For Nothing

I Am That Man

More Than A Margarita

Redneck Rhythm & Blues

My Love Will Follow You

One Heartache at a Time

Tequila Town

White Line Casanova
What I like about Brooks & Dunn is they never pretend to be anything more than what they are--entertainers whose main goal in life is to come up with hits so catchy they'll grab your attention through the tinniest radio speaker ever stuck in a pickup. Unlike, say, Garth Brooks or James Michael Montgomery, Kix Brooks and Ronnie Dunn never pass themselves off as profound philosophers or social commentators. For this duo, lyrics are just an excuse to belt out a big, juicy chorus hook, usually over an equally sizable dance beat. It helps, of course, that both men are fine singers, but just as important is the fact that almost every song on "Borderline," their fourth album, contains a terrific refrain and almost nothing else that might get in the way. -- Geoffrey Himes


If You See Her
(June 2, 1998)

How Long Gone

I Can't Get Over You

South of Santa Fe

If You See Him/If You See Her

Brand New Whiskey

Born and Raised in Black and White

Your Love Don't Take a Backseat To Nothin

Husbands and Wives

Way Gone

When Love Dies

You're My Angel
Brooks and Dunn are showing an even deeper side to their music--more emotion, more passion, and hard to believe, but even more energy. This wild roller-coaster ride pushes the boundaries of what has become acceptable in country music, blending simple Southern rock with country's lyrical themes, and is held together by Kix's crunching guitar. The duo runs through their familiar mix of upbeat boogies ("How Long Gone") and emotional ballads ("I Can't Get Over You") plus their Reba-shared hit "If You See Him/If You See Her." Though their changes are subtle, they are noticeable. --Paula Ghergia

Steers & Stripes
(April 17, 2001)

Only In America

The Last Thing I Do

The Long Goodbye

Go West

My Heart is Lost to You

Good Girls Go To Heaven

When She's Gone, She's Gone

Ain't Nothing 'Bout You

Unloved

Deny, Deny, Deny

Lucky Me, Lonely You

I Fall

Every River

See Jane Dance
While
If You See Her
and
Tight Rope
, their previous two albums, were Brooks & Dunn's strongest and most mature, their sales didn't earn either album the usual Gold and Platinum awards. Coincidentally, both CDs deemphasized the usual line-dance fodder, generic rockers, and flaccid ballads. On 2001's Steers & Stripes, the duo stays that course--to a point. "Ain't Nothin' 'Bout You" succeeds as the radio-friendly hit it was crafted to be but pales alongside the masterfully sung "Every River" and the classy ballads "The Long Goodbye" and "My Heart Is Lost to You." Smart Tejano arrangements spice up both the latter number and the witty "Deny, Deny, Deny." "Lucky Me, Lonely You" explores the time-honored shuffle turf of
Ray Price
and
Buck Owens
. Just as prominent, however, are Brooks & Dunn's sorties into bad old habits. "Only in America" overflows with tired clichés. The ballads "When She's Gone, She's Gone" and "Unloved" stumble over their own pretense. The witless dance ditties "Good Girls Go to Heaven" and "See Jane Dance" seem dated alongside the evocative, muscular David Lee Murphy rocker "The Last Thing I Do." The strengths here are potent indeed. Unfortunately, so are the weaknesses. --Rich Kienzle

Red Dirt Road
(July 15, 2003)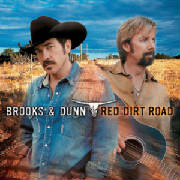 You Can't Take the Honky Tonk Out of the Girl

Caroline

When We Were Kings

That's What She Gets for Loving Me

Red Dirt Road

Feels Good Don't It

I Used to Know This Song By Heart

Believer

Memory Town

She Was Born to Run

Till My Dyin' Day

My Baby's Everything I Love

Good Day to Be Me

Good Cowboy

Holy War
Red Dirt Road, a collection of coming-of-age songs in which country's most successful duo comes clean about who they are and what forged their turbo-tonk sound. The title song is a spectacular and poignant slice of backwoods Southern milieu that melds the push of the gospel with the pull of desire--which, for a '60s teenager, meant girls, cars, and the beer-laced taste of freedom. Both men know a little bit about those subjects (don't miss Dunn's hidden track, "Holy War," which skewers TV preachers), as well as the thrill of
Exile on Main Street
-era Rolling Stones, a sound that permeates at least three songs here, including the randy "You Can't Take the Honky Tonk Out of the Girl." Bluegrass also gets a strong nod on the exquisite "Caroline," as does the Tulsa-bred,
Leon Russell
-fueled music that personally schooled Dunn in the '70s, particularly on "I Used to Know This Song By Heart," a tour de force of sharp Pentecostal vocals punctuated by the searing guitar work of Kenny Greenburg. Everything about this album moves the duo up a level, even Kix's singing on "When We Were Kings," a true-life remembrance of the Vietnam years. A few songs predictably pad things out, but on the whole Red Dirt Road is both surprisingly affecting and monstrously good. --Alanna Nash