Kix News!
Kix is taking part in a Golf Tournament and much more in 2005. The Golf tournament is to raise money for Lousiana Tech where Kix went to college and the Methodist Children's Home in Ruston. Alumni , coaches and past players and stars participate…this year it's on Fri. March 18th. Anyone wanting to put together a team and participate is welcome– entry fees and details can be obtained at Squire Creek Golf Club in Choudrant, La.

Kix is also the recipient of the first Distinguished Alumni Award from St. Andrew's Sewanee School. "It will be given yearly to the alumnus or alumna who has achieved excellence in his or her field of endeavor and/or has made outstanding contributions to his or her community, and has brought distinction to them, to their profession and to their alma mater." The award will be handed out during Alumni Weekend June 3-4, 2005.

Kix is also being honored as a "Louisiana Legend" at the Fifteenth Annual Louisiana Legends Awards Gala and Auction on April 28 in Baton Rouge. For fourteen years, the statewide LPB television network has honored those natives of Louisiana who have distinguished themselves in their chosen fields and have made Louisiana proud.

Brooks & Dunn Nominated
for Grammy Award!
Congratulations Brooks & Dunn! The Duo has been nominated for a Grammy for Best Country Performance By A Duo Or Group With Vocal for their hit song You Can't Take The Honky Tonk Out Of The Girl.

The 47th Annual GRAMMY® Awards will be presented in Los Angeles at STAPLES Center on February 13, 2005. The show will be broadcast on the CBS Television Network from 8 - 11:30 p.m. (live in the East, tape delayed in the West) marking the 32nd consecutive year the show will air on CBS.

Dynamic Hosts win
CMA Duo of the Year!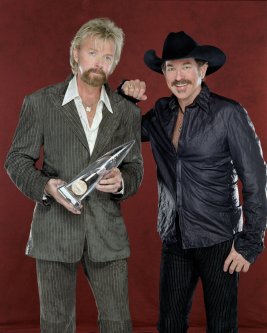 Congratulations to Brooks and Dunn on their CMA Duo of the Year award! And their outstanding performance of "It's Getting Better All the Time".

Listen To Brooks & Dunn on AOL Sessions
Beginning Friday, 10/22, AOL Members can access the live performance of "That's What It's All About" and the exclusive interview by going to Keyword: SESSIONS. Non AOL Members can access by going to
aolmusic.com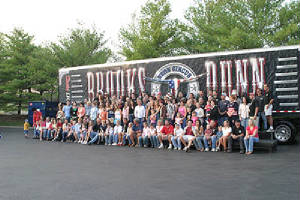 Nashville: When Ronnie Dunn and Kix Brooks heard "That's What It's All About," the current single from their upcoming Greatest Hits, Vol 2 which moves from 20-17* on Billboard's Country Singles chart, they knew it was a song about the things that truly matter. But when the 4-time Entertainers of the Year really took a close at the song and what it celebrates, they recognized it spoke pretty deeply about the price one pays to live their dreams. and decided that it made sense to film a video that showed the juxtaposition of how own earns their living and what lies closest to one's heart.
"Whether you're jumping up onstage or going downtown to an office, driving a truck or working in a hospital, everybody has the thing they do that supports them and their family," says Kix Brooks of the low slung guitar and high-flying stage presence. "But at the end of all that, what it really comes down to is the people you come home to. the ones who love you and you love them.
That IS what it's all about, and we got very lucky to see the visual aspect of this for us when we did."

"We were watching some of the family footage on the side of the stage over the weekend," says Ronnie Dunn of the rafter-scraping vocals, "and a bunch of us were tearing up. I don't even know where they got some of this footage. There's stuff of my Dad, which really brings it home for me."

Enlisting award-winning director Michael Solomon, the men hailed by USA Today for "the return of macho country" opened up not only their lives and their families to the process -- but invited their band members and crew to bring their families along, too.

"We've got the greatest people in the world working for us," says Brooks.
"And we understand the sacrifice they and their families make to do this...
We want the families to know how much we appreciate 'em -- and we want the world to see how awesome all these folks are."

Having filmed performance footage in Pittsburgh last night (Sunday, August 14), Brooks, Dunn, band, crew and extended family will set it up at Nashville's First Amendment Center where they will shoot a "portrait" of all the people who make it happen -- with the people who support the people who make it happen. And, because it is Brooks & Dunn, they will perform for the assembled family, friends, neighbors and beyond.

"We were really lucky to get this song, because it's about the thing that matters more than all of it: your family, your relationships, the people who love you. Strip it all away -- it's pretty powerful stuff, though you can get so caught up in all the stuff that comes with the rat race that you lose sight of that. For us, this video is not only a reminder. it's a way to let those people know how much their support means to us."

Brooks & Dunn were nominated today for Favorite Country Band, Duo or Group for the 32nd American Music Awards. Nominees for the 32nd annual "American Music Awards," were disclosed today. The awards will be presented during a three-hour special on the ABC Television Network, Sunday, November 14, 2004, 8-11 PM (Eastern and Pacific Time). The special will emanate from the Shrine Auditorium in Los Angeles, California and be hosted by Jimmy Kimmel.