Brooks & Dunn to Host the
38th Annual CMA Awards
Kix Brooks and Ronnie Dunn have accepted hosting duties for the 38th Annual CMA Awards. Brooks & Dunn will step in for long time host Vince Gill, who has chosen to take a break from hosting.
"The CMA Awards are a chance to recognize the best music of the past year -- and to come together as a community," said guitarslinging singer/songwriter Kix Brooks. "For us, it's all about honoring our peers -- and we are honored to have been asked."

"Who wouldn't want to host Country's biggest night?" added rafter-scraping vocalist Ronnie Dunn. "To be able to be a part of bringing all these great acts together -- and then sharing it with Country Music fans across the country, that's pretty awesome. So know, we're ready and looking forward to it."

Brooks and Dunn are also nominated in three categories this year:
Duo of the Year
Album of the Year
Entertainer of the Year
Congrats Kix & Ronnie!!!!!

Superstar Duo Brooks & Dunn Set To Release The Greatest Hits Collection II On October 19
NASHVlLLE - Country's favorite duo Brooks & Dunn keep raising the bar for career excellence as they release their latest Arista Nashville album, Greatest Hits Collection II, on Tuesday, October 19.

With 24 Number One singles to their credit, the multi-platinum selling twosome have created a retrospective of their last seven-years worth of chart-toppers and a glance at the future with three newly recorded tracks. The 17-song package includes their most-recent single, "That's What It's All About," just entering the Top Ten on country airplay charts (#9 Billboard and #10 R&R this week) and smash hits like "If You See Him (If You See Her" (duet with Reba McEntire), "Ain't Nothin' Bout You," "Only In America" and "Red Dirt Road." The three new tracks are produced by Kix Brooks, Ronnie Dunn and Mark Wright. (A complete list of song credits is below.)

Hits on this new collection were assembled from the following recordings, all released after their initial Greatest Hits Collection in
1997: If You See Her (1998), Tight Rope (1999), Steers & Stripes (2001) and Red Dirt Road (2003).

The release of Greatest Hits Collection II comes at a time of much activity and acclaim for Brooks & Dunn. During a recent Country Music Association press conference, the multi-platinum power duo were announced as hosts of the 2004 CMA Awards on Tuesday, November 9, on CBS, 8-11 p.m. Eastern/Pacific. At that same media gathering, they received three 2004 CMA award nominations - "Entertainer of the Year,"
"Duo of the Year" and "Album of the Year" for Red Dirt Road on Arista Nashville.

At a mid-summer event, the 4-time "Entertainer of the Year" winners were surprised by RCA Label Group-Nashville and Arista Nashville label executives and industry friends with a celebration commemorating 25 million career sales -- that has now actually surpassed 27 million worldwide.
Hits Are What Brooks & Dunn Are "All About"
Since making their debut, Brooks & Dunn - aka Kix Brooks and Ronnie Dunn - have proved time and time again that they have a way with a song. So it's no surprise that the guys are warming up to release their second "Greatest Hits" collection this fall.

While no track listing has been announced so far, we can tell you that the guys will definitely include new material like "That's What It's All About," which they debuted in Las Vegas at the ACM Awards last month. Of the song, Ronnie notes, "We can get so caught up with the little things in our daily lives that sometimes we lose sight of what matters. That's what this song is about: recognizing those things that aren't so important and putting your focus back on what is!" As for Brooks & Dunn's newest "Greatest Hits" collection, fan will have plenty of the duo's big hits to focus on.

Since releasing their first hits collection, in 1997, Kix and Ronnie have cruised the charts with a number of their songs. The CD's the guys will pull from include: "If You See Her" (1998), "Tight Rope" (1999), "Steers and Stripes" (2001), their 2002 holiday album, "It Won't Be Christmas Without You," and their most recent release, "Red Dirt Road."

Only In America --
Brooks & Dunn Take The Beach!
Brooks & Dunn Build A Stage on Camp Pendelton's Beach For Troop Appreciation
Rascal Flatts, Steve Holy & the Coors Twins Join the Celebration Aug 6th
San Diego, CA: When 4-time Entertainers of the Year Brooks & Dunn decide to tell the Marines how much they appreciate the sacrifice they're making in the name of freedom, you can figure they'll do it in the biggest way possible. So this Monday, Aug 2, a crew will break sand on the beach at Camp Pendleton to build a stage from the ground up and out -- complete with video walls -- to let 30,000+ Marines and their families know how grateful the honky tonk heros are for all their efforts.

"These folks put their butts on the line for the values this country believes in every day," says whirling dervish guitar slinger Kix Brooks. "They don't complain or make a deal out of serving this country, they just suit up and do what's asked of them, expecting nothing. To me, people who can make a sacrifice like that are people we should be thanking as loudly and powerfully as we can."

In addition to the usual confetti cannons, t-shirt launchers, 28 foot blow-up dolls and their own larger than life personalities, Ronnie Dunn and Kix Brooks have enlisted a few of their favorite friends to join them for this celebration for the American defenders of freedom. Academy of Country Music and Country Music Association Vocal Group of the Year Rascal Flatts will be joined by Texas ladies man Steve Holy for this once in a lifetime show on the sands of Camp Pendleton -- and even the General Commander will be on hand for the music.

"We're lucky that our friends at Coors get the kind of things we like to do and support us in it," explains singer/songwriter Ronnie Dunn with a little incredulity. "When we said we wanted to build a stage on the beach that could handle our full show, they didn't try to reason with us. explain why that was a crazy idea. pretend they didn't hear us! All they said was 'Well, when would you like to do this?' -- and then they got in there, and started helping figure out how to make it happen, which is a pretty cool way to be."

"There's nothing there but sand, so we ARE having to build it from the sand up," reports Coors National Producer Roger Huskey, "but it's the only way we're going to be able to accommodate the whole Brooks & Dunn production. Sure, it's a one time only deal -- but for the 30,000 or so Marines and their families who're either on their way over to Iraq or just coming back from combat, it's the least we can do. and we're just glad to support Ronnie and Kix in this."

Beyond the music, there will be a full flyover -- and America's favorite pair will be joined in true Bob Hope tradition by the Coors Twins, who've re-arranged their schedules to be available to emcee the concert. Knowing the high-energy, big-fun nature of the 27-million-selling duo, there are more than likely a few more surprises in store. but unless you're a member of the Marines, chances are you're going to be reading about them in the paper.

"This is our way of saying 'thank you'," offers Dunn quietly. "These men and women are doing something for all of us as Americans. We don't necessarily see or think about that, but it's a pretty major sacrifice they're making, so this is a small thing we can do. But Kix and I can't wait."

Brooks & Dunn
Sets more Records
Yeah they are celebrating 27 million records sold, and a string of awards but that doesn't stop them to continue to break other records.
Brooks & Dunn broke the attendance record previously held by Def Lepard at the Davenport Iowa Fair Thursday night August 5th. They also broke the 14 year attendance record at Merrit, B.C. Festival a few weeks ago.
Be the top of the charts, venues, or awards shows, you are bound to find this duo breaking their own records!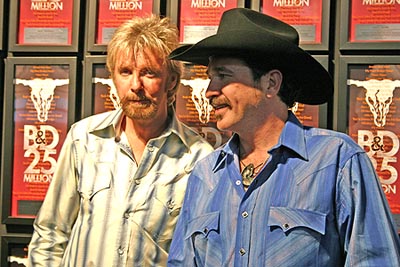 Worth 25 Million Smiles
To Celebrate the Career sales of 25 million records, B&D label and management went all out with the mother of all platinum parties. Kix and Ronnie were surprised with lots of friends, food and fun. Fun on wheels Joe Galante President of RLG label group, presented each of them 4 wheelers and plaques of 25 million sales. B&D were grinning ear to ear when the thanked everyone for helping make their dreams come true. Another surprise was a wall covered by a long curtain, when the curtain dropped there stood a wall of 265 plaques thanking all the invited attendees for there participation in the career sales. Kix and Ronnie spent the rest of the evening chatting with friends and thanking them for the best job ever!

Brooks & Dunn Make Friends
in Las Vegas
Ronnie Dunn and Kix Brooks have a way of making friends everywhere they go. Part of it is their larger than life personality, another facet is their amazing sense of humor - and one should never discount their perfect sense of just the right gesture. Whether it's putting secret crush Marilu Henner in a video -- fulfilling one of her secret fantasies ("I'd always wanted to be in a music video"), helping Dr. Phil surprise his wife for Valentine's Day or playing pranks on their tour mates, Brooks & Dunn know just what's gonna be remembered.

So when the 26-million-sellers had their shot on "Vegas," they both came away with James Caan's home phone number. "Imagine that," laughs the dervish that is Kix Brooks… "ME! With James Caan's phone number… 'The Godfather,'

'Brian's Song' and on and on."

To let the street saavy actor know how much they enjoyed the hang on the set, the men who kickstart the heart of Saturday night decided a little gift would be in order -- so they sent Caan a razor scooter, the kind that had kept Neon Circus 1, 2 and 3 zipping all summer.

"Yeah, the card said, 'A big star like you shouldn't have to walk.',"

laughs Brooks. "And when we sent it out, it was more the gesture than anything. I mean, those razor scooters are big fun… but he's James Caan and has everything imaginable, I'd imagine. So I figured it would either end up in his garage, or one of his kids would get it, which was fine."

Imagine Ronnie and Kix's surprise when Caan was not only shot for The Los Angeles Times riding the scooter across the set of the night-time drama, but the photo caption even identified the scooter "as a gift from country stars Brooks & Dunn."

"Go, figure," adds Dunn with a laugh. "You just never know what people are gonna respond to! We did it 'cause we knew it was fun… We wanted to give him something… and the next thing you know, there he is in The LA Times."

In classic Brooks & Dunn fashion, passing it on. Kinda like that new single, which debuted with a rafter scraping performance on the Academy of Country Music Awards and goes for adds next week: "That's What It's All About."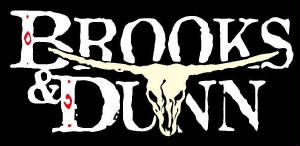 Having Coors build a special one-time only stage on the beach at Camp Pendleton to entertain 35,000 Marines on their way to or from active duty in Iraq seemed like the least Ronnie Dunn and Kix Brooks could do to salute the men and women serving our country. But when you get an act like Brooks & Dunn -- along with their special guests Rascal Flatts and Steve Holy -- doing something big and unprecedented, you can always count on it getting even bigger than anyone imagined.

"You know, there were another 10,000 Marines and their families who wanted to come to the show," says Kix Brooks as if it were just picking up another dozen eggs. "And when you consider what they're doing for this country, you figure, 'What the heck?! It'll be a little tight, but it'll be okay… we'll just get real friendly is all."

So with the Coors Twins in camouflage mini skirts as emcees, Brooks & Dunn blew it up B&D style for what ended up being 45,000 people. And given how high emotions were running for the troops and their families, it was an emotional night for the men whose "Only In America" went into #1 the week after Sept. 11.

"All those troops really want to know is that we support them and what they're doing," says Ronnie Dunn solemnly. "You know, they're the ones at risk… So it was a good thing to let them know we ARE behind them as they put their lives on the line for all of us. My only regret was that we didn't think to film the show, because when we did 'Only In America' and that color guard came out, it was pretty powerful stuff."

Brooks & Dunn continue moving up the charts with "That's What It's All About," a sweeping Jessie Collin Young meets Poco in a back alley celebration of savoring the simple realities that make life sweet. Currently barnstorming across North America and getting back to the fairs -- in the same spirit as the Red Dirt Road Tour earlier this year -- B&D are gearing up for a more hardcore honky tonk road show with former Neon Circus supporters Montgomery Gentry and redneck woman Gretchen Wilson.

"It's all about how you light these people up," adds Brooks. "You wanna show'em a good time. Man, when the wind started blowing off the Pacific and sent all those red, white and blue streamers all over the stage -- instead of in the audience -- it was one of those moments that could've been a drag, but wasn't! When the audience is into it, they carry you -- and we've always been lucky that way."